Do you want to learn how to tell a story? Check out Cindy's workshops and coaching or Contact Cindy
Cindy's award-winning renditions of tales from the folk tradition, along with her personal stories, convey a sense of wonder, humor and poignancy. She crafts and performs with a deep respect for the process of story transmission, co-creating the story in the moment with her listeners. Her highly expressive face, gestures and voice bring the stories to life.
Jewish Folktales
Multicultural Folktales
Personal Stories
Jewish Folktales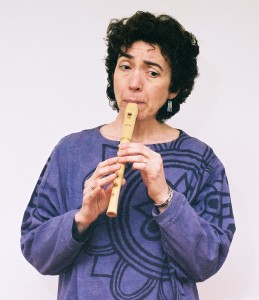 "Each tale is rich with Jewish history and tradition."
—School Library Journal
"Cindy Rivka Marshall must be reckoned as one of the finest storytellers around."
—Howard Schwartz, author, folklorist
By the River
These moving and varied stories from traditional Jewish sources have been crafted anew, and told from a woman or girl's perspective. Includes an original midrash about Miriam and Serah bat Asher, a version of the Talmudic story "Joseph Who Loved the Sabbath" – told from Joseph's daughter's perspective, a new telling of a Hasidic story, "A Garment for the Moon," that highlights Rosh Hodesh rituals, plus lighthearted and satisfying Jewish folktales.
Ideal for women's groups and Bat Mitzvah groups, this program includes stories from the CD, By the River: Women's Voices in Jewish Stories plus more. Shows available with live musical accompaniment by multi-instrumentalist Susan Robbins, or with Cindy Rivka Marshall in solo performance. (Ages 10 through adult, Ideal for women's groups and Bat Mitzvah groups)
Entering the World of Torah
Imagine entering a Torah scroll. Stories about the alphabet, in which the letters of the Hebrew alphabet come alive, dance about, and talk like full blown characters. Why do some of the letters in the Torah scroll wear crowns on their heads? When Moses received the Torah on Mount Sinai, what did the people promise? Amusing animal tales illustrate the importance of studying and learning Torah. Based on classical midrashim and folklore and laced with imagination, these stories are perfect for programs on Shavuot, or to engage children in Jewish learning and an appreciation of the "Tree of Life," the Five Books of Moses, the Torah of the Jewish People. (Grades 3-6)
Who is Truly Wise?
Stories of Wisdom and Foolishness
From King Solomon to the fools of Chelm, Jewish folktales often present tests of wisdom and puzzles to solve, and in the process, impart lessons about Jewish values. Entertaining renditions of humorous and tender, traditional tales. (Grades 3-7)
The Taste of Shabbat
Stories about the joy of observing the Sabbath, the Jewish day of rest. (Pre-K through grade 5, family audience)
Visits from Elijah
One of the most popular folk heroes in Jewish lore, Elijah the Prophet appears in Passover stories and other tales, to test a person's faith or generosity. Disguised as a beggar, a merchant or a nobleman, Elijah can change one's fate, for better or for worse. Keep an eye out for Elijah! (Grades 3–7, family audience)
Miracle of Light
These Jewish folktales for Hanukkah, abound with miracles and themes of generosity, faith in the face of adversity, religious freedom, and finding the light in times of darkness. This program includes stories from the CD Challah and Latkes: Stories of Shabbat and Hanukkah (Pre-K through grade 5, family audience)
The Reflecting Gaze
Rosh Hashanah and Yom Kippur stories for the New Year, with themes of self-reflection, justice and communal responsibility. (Grade 4 through adult)
The Whole Megillah
To celebrate Purim, listen and participate in this fun and engaging retelling of the Book of Esther story with songs, refrains, and gestures that involve the audience. Entertaining and well researched, true to the original text, but appropriate for elementary school age audiences as well as older children and adults. A recording of The Whole Megillah is available for download here. (Family audience, Kindergarten through grade 7)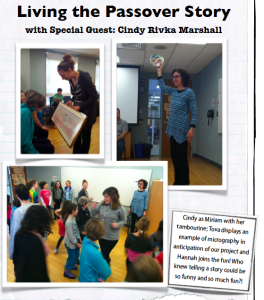 A Cup for Elijah and for Miriam
Stories with Passover themes, including original, midrashic stories based on the Book of Exodus, highlighting Miriam's role, and humorously looking at the experience of leaving Egypt from the point of view of the animals and the children. Also including folktales of Elijah the Prophet, and how he teaches values of generosity and kindness. (Grade 3 through adult)
Multicultural Folktales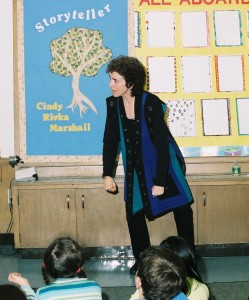 "I thought your presentation was amazing! Your voice, gestures, and facial expressions made the stories seem real."—Plymouth South Middle School Student
Animal Tales
An entertaining program of animal stories from many cultures, with songs and gestures for the audience to join in. The animal characters in these stories from Africa, Europe and Asia have human qualities that everyone can relate to. This program includes stories from the CD, Bear's Tail and other Animal Tales. (Pre–K through grade 3)
of Cindy performing a story about how the hoopoe bird got its crest!
Clever Folks
The person who holds the wisdom is often the unlikely one in these folktales from China, Vietnam, Eastern Europe and Mexico. The champions of justice in these stories encourage a sense of acting on one's inner convictions, and their clever routes out of predicaments will not fail to entertain. (Grades 4-7)
Personal Stories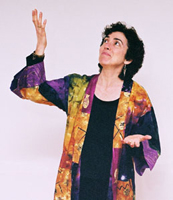 Memories in Motion
Cindy's memories of her Dad, both the connections and the alienation, and arriving at new perspectives and appreciation as the years pass. (Teens and adults)
Making Borscht
Based on family oral history, the story of Cindy Rivka Marshall's grandparents' lives in Poland and their immigration to the United States, woven with her childhood reminiscences. (Teens and adults)
The Apple Doesn't Fall Far From the Tree
A program of original stories about Cindy Rivka Marshall's relationship with her American-born Jewish grandmother. Although they live very different lives, the bond that stretches across the generations carries them through to a profound understanding. (Teens and adults)