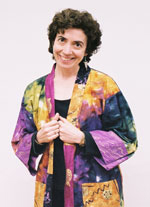 Whether she is performing, teaching, facilitating or consulting, Cindy Rivka Marshall is guided by her value of respect for all.
Cindy tells multicultural and Jewish stories with universal lessons that resonate with her sense of wonder. She teaches storytelling, communication, interviewing and listening skills, and story-based approaches to teaching. Cindy creates safe environments for participants to speak and be heard. As a consultant, Cindy facilitates groups to articulate their values and message and build a sense of community.
Award-winning Storyteller
Cindy has performed stories and presented workshops since 1989 throughout New England, nationally and in England, at festivals, conferences, schools, libraries, synagogues, churches and community groups. She studied acting, movement improvisation and storytelling with Julie Portman, Daena Giardella, Marsha Hiller, Elisa Pearmain, Peninnah Schram and others.
Her recordings include:
By the River: Women's Voices in Jewish Stories
Parents' Choice Recommended Award
Challah and Latkes: Stories for Shabbat and Hanukkah
Storytelling World Honor Award, National Parenting Publications Award
Bear's Tail and other Animal Tales
Parents' Choice Recommended Award, Storytelling World Honor Award
"Cindy Rivka Marshall must be reckoned as one of the finest storytellers around."
—Howard Schwartz, author of Tree of Souls: The Mythology of Judaism
Facilitator and Consultant
Since 2011, Cindy has worked as a consultant on Jewish educational innovations in synagogue schools for Combined Jewish Philanthropies. (see video) In 2016 she consulted with Exploration Summer Programs, creating a curriculum "Story for Reflection." She worked at the 2012, 2013 and 2014 summer High School Programs at Brandeis University, training faculty, educators and participants in using story sharing to build community. In 2013 through 2016 she consulted with Gann Academy in Waltham, MA on using story sharing to build diversity awareness and a culture of appreciation.
Cindy trained with Equity Consulting to lead diversity awareness education and with Keshet to lead LGBTQ awareness workshops.
Cindy holds a Masters degree in Communications from Goddard College.
Cindy has performed and presented workshops at: Limmud UK, CAJE, LimmudBoston, National Storytelling Network Conference, Riverway Storytelling Festival, Northlands Storytellling Conference, Sharing the Fire: Northeast Storytelling Conference, Jewish Reconstructionist Federation National Convention, Adoption Community of New England Conference, Connecticut Storytelling Festival.
Teacher and Story Coach
Cindy runs the Dancing Tree Story Workshop at the Gorse Mill Artists Studios in Needham, MA where she offers workshops and coaching in storytelling skills.
"The creative energy in the room inspired me…to try something I haven't before." – Workshop Participant
More
Cindy serves as the co-chair of the Jewish Storytelling Coalition, an national online directory of Jewish storytellers and resources.
She worked as a Video Producer, Director and Editor for 15 years, with many programs distributed nationally, internationally, on cable and public television. Throughout the 1980's, Cindy worked as a video artist-in-residence in public schools all over eastern Massachusetts. Her award-winning films include:
A portrait of Yiddish folksinger Ruth Rubin.

A portrait of jazz singer Lisa Thorson.