Come to Stories in Progress – a Monthly Story Playshop
Mondays at 7pm: April 24, May 22, June 26, 2017 contact Cindy for more info
Cindy Rivka Marshall and her colleagues offer story coaching, storytelling workshops and rehearsal space in this lovely, light filled studio. We are housed in the creativity abundant Gorse Mill Studios building, where over 50 diverse artists work. Located at 31 Thorpe Rd, Needham, MA with plenty of free parking, convenient to Rt 95.
Approximately 350 square feet, wood floor, high ceilings, corner room with 6 windows, control A/C or heat, wheelchair accessible, access to kitchen.
Please contact Cindy to inquire about use of studio.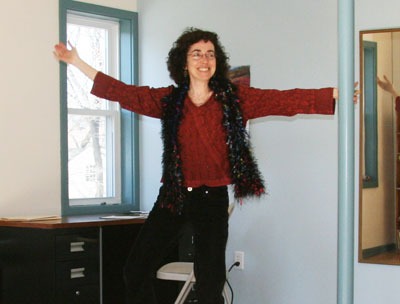 Driving directions:


From Rt. 95, take exit 19B / Highland Ave / Needham
Head towards Needham on Highland Ave (this is called Needham St when it is in Newton.)
Take a left at the second light on Webster St. Go less than ½ mile. Go straight through light at High/West.
Take first left on Thorpe Rd. Turn into first driveway on left.
Across the parking lot you will see a building with a big sign that says William Gorse Co. and 31 Thorpe. Park anywhere.
Dancing Tree Story Workshop is upstairs, #210. There is also an elevator if needed.
If you take either bus or commuter rail to Needham Junction, you will be at intersection of Highland and West. Walk down West St. to light, take right on Webster. Then take first left onto Thorpe Rd.
The Story behind the name Dancing Tree
A tree is long living. It represents a commitment to life. Its graceful nature connects earth and sky. I see myself as a tree when I tell stories. I am rooted in the tradition of the folk art of storytelling, and the oral and written tradition of my Jewish ancestors. Folktales, legends, biblical text and midrash are the ground water and the earth that feed my stories and plant me securely on the ground. I reach for the sky, the sun, the stars. I move away from a fixed form of a story to my own interpretation. I dance my stories while being rooted in tradition.