Consulting for Organizations
Story has many applications in an organizational setting
Telling the story of your organization
Expression of organizational values
Team building
Communication Skills
Presentation Skills
Professional Development
Innovative Programming
Appreciative Inquiry
Diversity AwarenesS
See Workshops for Organizations
Customized programs with defined outcomes
Cindy Rivka Marshall listens carefully to a client's needs and designs a process based on their goals. With her excellent workshop planning and facilitation skills, Cindy delivers on the outcomes you define together.
Facilitated listening and interaction
Cindy creates a structured space and time for all points of view to be heard and appreciated. She elicits anecdotes of moments of success, and leads groups to build upon these positive outcomes and articulate a vision. She coaches individuals and groups to tell their stories effectively. These stories can reinforce, guide future planning and be used to communicate organizational message internally and out to a wider community.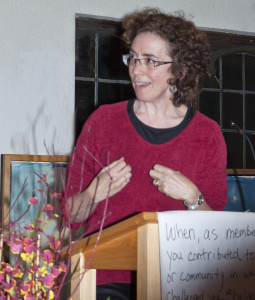 "It was a great workshop and we're getting wonderful feedback. I enjoyed working with you and the time and care you took to make sure the program was exactly what we needed. I look forward to working together again in the future." – Rise Roth, Jewish Community Foundation of Greater Hartford, CT on Cindy's "Tell Your Compelling Story" workshop
Sample Clients and Programs
Exploration Summer Programs, Wellesley, MA, 2016 – Trained faculty and designed curriculum "Reflecting with Story" activities to facilitate teens to tell the story of their "Explo" experience
Jewish Community Foundation of Greater Hartford, CT, 2016 – Trained leaders of non-profit organizations to use story for outreach and development, to tell compelling stories about their work
Gann Academy, Waltham, MA, 2012-2015 – Trained entire faculty in communication tools and structure with which to approach discussions on diversity – Consulted with the staff advisor to the Gay Straight Alliance on how to design a school wide event addressing diversity – Facilitated Appreciative Inquiry workshops for staff of Jewish and Student Life department
BIMA and Genesis programs, Brandeis University, Waltham, MA 2011-2014 – Professional development trainings using story to build community, culture of appreciation, and reflection on personal and professional journeys for staff of young Jewish educators
Impact Boston, 2014 – Trained young educators in story based reflection and facilitation of activities with teens
Combined Jewish Philanthropies, 2014 – Trained Boston area educational leaders to use Appreciative Inquiry as a tool with their staff
Temple Beth Shalom, Needham, MA 2013-2015 – Trained teaching staff to tell moments of success stories, to build understanding of their new model for learning
Temple Shir Tikvah, Winchester, MA, 2011 – present – Work with Education Director, teachers, parents and students, professional and lay leaders to develop programming using storytelling and interviewing with the goal of realizing the congregational innovative vision of learning
Cohen Hillel Academy, Marblehead, MA, 2014 – Trained parents to be ambassadors for school outreach